whee!
August 22, 2012 - Written by
Diana
Poaching is one of lower fat ways to prepare eggs. I love eggs over medium, cooked in olive oil but left still runny. I like poaching, but they're always messy when I do it, leaving little trails of egg floating around and sometimes sticking. Forget cooking a bunch of eggs at once. I've been eyeing Fusionbrands Poachpods wondering if they work. When I was offered a chance to try them out, I went for it.
The poachpods are food safe silicon cups – that you place the uncooked egg in before dropping it in the pan to poach. So no swirling tentacles of egg all over the pan, it's all contained in the poachpod. You boil the water, drop the poach pod with the egg into the pan, top with a lid and when it's poached, pull it out of the pan, turn it over and flip the egg out.
;
;
I've been playing with it a little, and these are my observations.
It takes a little longer to use the poach pod – but you have to keep an eye on it because like regular eggs it goes from ready to over cooked pretty quickly, but not too fast if you are paying attention.
;
;
You can use it as a way to boil an egg without the shell – in the microwave. A couple of pokes into the yolk, and then cook in the microwave. My son was sure it would spit and splatter but it didn't for me. (These might make a great gift for someone in a dorm looking to cook eggs up in the microwave.)
;
;
The egg is a little weirdly shaped after it is cooked, one side is flat, and the other oval. I'm not complaining, I can take weirdly shaped, but I thought I should mention it.
They go into the dishwasher for easy cleaning, it would have been a deal breaker otherwise.
Stackable and storable – silicon flexible they stack inside each other really well.
There's a red white and blue set for those that are patriotic, or celebrating the Olympics, or just like red white and blue – actually the individual poachpod cost is less for three.
;
All in all, it's a cool product.
;
Disclosure: Fusionbrand Poachpods were sent to me for a review. This is an unpaid post, my opinions are my own.
January 25, 2012 - Written by
Diana
Recently I came home to baked fries, that my son made and put into the toaster oven. No oil, not deep frying, just baking and they were fantastic tasting.  He decided to use the Genius Nicer Dicer to cut the potatoes into uniform size – and I think it did the trick.  Since the potatoes were uniform in size, they took the same amount of time to cook and were perfect.  Because he used herbs, salt and pepper, they were tasty even without the oil.
We've been trying out the Genius Salad Chopper and the Genius Nicer Dicer, two chopping tools that are sold on QVC.  They're mostly self contained because you can store the blades, and slicers inside the container the Chopper sits on top of.  It's both a work and serving station.
The salad chopper bowl is huge, which will come in handy when you have a really big gathering and want to serve a big group though, t's a bit oversized for a family of four.  The Salad Chopper comes with two different sized blade inserts, an insert with two graters and a cleaning tool.  The chopper lid has a button on top, where you push the self-cleaning part of the lid to help push the food bits out.
The Nicer Dicer  has a couple of different size double sided grates, that you push food through.  Plus it has a wedge blade for two different sized wedges.  The nicer dicer also has a grater and a mandolin blade and egg cutting blades. Both of these chopping stations have separate lids that can replace the chopper for storing the chopped food in the chopping bowl.
Pros – if you have quite a bit of chopping to do, this will help.  It will easily chop onions, peppers, apples, tomatoes, with one caveat.  The fruit and vegetables have to be cut down to fit on the chopper, or it won't work.  However, cutting an apple into four apple slabs and then chopping it down, is easier that trying to dice the whole thing by hand. The blades are different sizes, so you can cut it to the portion you want and uniform sized food, means it will cook more evenly.
The chopper containers have lids to cover it, turning it from a chopper, to a container you can store in your fridge.  I love the mandolin – it shaved my apples into really thin slices and the onions sliced well too.  The chopper is easy to clean with the push through self-cleaner – though it can be difficult to push and clean, I mastered pushing the self-cleaner while spraying with the vegetable sprayer to clean it off.
Cons – Sometimes you need a bit more leverage or oomph to get the chopper to chop, and a couple of extra hits.  The directions say to wet the blade first, which I found helpful.  Also, if the vegetable is a little big, it will need to be cut down in order for the chopper or dicer to work correctly.  The other problem is the size of the salad chopper.  I think it will be perfect for a large salad when you are having a gathering – and it's nice to look at, but it's note easy to store.
The best part is that my son took it out and used it to make baked fries with herbs – in the toaster oven.  They were lighter without any fat, or oil and very tasty.  I gave him a quick instruction the day I received it and that's it.  Easy Peasey – well and a little oomph.
Disclosure:  I received the Genius Salad Chopper and Nicer Dicer for review. This was not a paid review.  All opinions expressed were my honest opinions.
July 12, 2011 - Written by
Diana
I was sent a Cook N' Stir by Beka – to try out.  It's a 2 1/2 Quart measuring pot with a pour spout.  When my daughter and I saw it, we both immediately thought of her alfredo sauce.  I think it's deep enough that her sauce won't splatter all over – that's always a problem when my kids cook.  The splatter goes everywhere.  This is less wide and more tall, so maybe less splatter  – one can hope.
What neither of us expected, is that my son has decided that it's a great pot for using to make dinner.  He first tried it with a spaghetti meat sauce.  I thought it was a good idea (and hey no sauce splatter).  he cooked the meat in the microwave and prepared the sauce in the Cook N' Stir, then added the meat to the sauce.  We loved pouring the sauce over top of the spaghetti.  Then another day he did macaroni and cheese. One of the features I love about the Cook N' Stir is the thick bottom.  Not only did we not have splatter, but we also didn't have any food burned either.  I have to say it's been really a pleasure to see the stove afterwards.  Somedays I wonder if it's worth asking the kids to tackle dinner when I have so much cleaning to do afterward but not after those meals.
The handle is nice and doesn't seem to heat up, and though we haven't had a use for the lid yet (no leftovers?), I can see that it will come in handy.  It's stainless steel, a big plus for me too.  I can't wait for my daughter to make alfredo.
Disclosure:  I was sent the Cook N' Stir by Beka for a review.  The opinion is my own honest opinion.  No payment was received.
August 20, 2010 - Written by
Diana
I've been using these kitchen tools, and I'm ready to share what I think about them.  When I do a review, I usually try to use it for a while to get used to it and to make sure it's durable.  I would hate to talk about something and find out later it was useless, but I recommended it because I didn't spend enough time with it.  In fact, recently I tried out this great looking shiny peppermill.  I loved the weight of it, the look of it, but in reality, it's useless.  The kosher salt dropped through the mill without stopping.  I thought it would be different for the peppercorns because I knew they wouldn't fall through.  Well, no, they didn't, but they weren't ground down either, they spit out in chunks.  I am so disappointed.  My poor college student daughter who will be moving in to a house with 5 other girls didn't even want it.
The tools you see on Cookerati, are the ones I recommend, some highly, some are better than good, and others are just good but I won't recommend something I've tried out and didn't like.  Today's list is pretty good, I hope you like them too.
The Skrapr –  My husband and I have discussed getting another because we want it in the house and outside by the grill.  Two skraprs come in the container, but we want two of the bigger size . The skrapr will scrape stuck on food off of your glass top stove, or the grill without scratching.  It's also good for steel pots and pans, scraping off burned food without scratching the pan.  My glass top has lots of scratches from cleaning, but when I saw how well it worked without scratching it has been the tool I use there.  My husband likes to use it for cleaning off the burned stuff from his grill.  He does have a big nasty scratcher thing, but it's difficult to clean after you are done scrubbing with it.  It will also clean off the counters too and can take the heat or cold.  I highly recommend the skrapr for your kitchen and grill.  There are tons of other recommended uses for it, but I'm referring it for your use in your indoor or outdoor kitchen.  (PS – be careful of spelling when looking for it because I keep trying to add an 'e' in Skrapr and there isn't one).
Herb Chopper byKuhn Rikon – I like a lot of  Kuhn Rikon products, but this is my other most  favorite thing I received to try out.  I am not a chef who can wield a knife professionally, so chopping herbs goes slowly.  Snipping with scissors isn't quick for me.  The herb chopper rocks back and forth over the cutting board quickly chopping the herbs into small pieces.  I didn't like it for chopping celery or small vegetables,  but for leafy herbs and rosemary, it's perfect.  Does that make it useful if you can only chop herbs with it?  It does for me, because herb chopping has been one of my problem areas.  Now I pile them up and just chop,  and chop, gather together closer, chop and chop some more.  I'm an herb chopping demon with this tool.   It won't fit in the silverware drawer, but probably in one of the other kitchen tool drawers.  I don't have a place for it in my cabinet drawers, I have a container on top of my cabinet that I store my good chopping knives and other tools.   I keep the skraper in there too.    I highly recommend this tool.  It's made of high carbon steel, with a non-stick blade and comes with a protective sheath.
Multi-Function Jar Opener by Kuhn Rikon –  This multi-function jar opener is a very good tool to have around, especially if you have arthritis or weak hands.  I brought this out when both my mom and mother in law were visiting and I offered it to my mother in law because I knew her fingers sometimes struggle with opening things, and she snatched it up.  I plan on getting another for my mother, she has less trouble, but sometimes opening those water bottles, glass bottles and cans can be difficult.  It is a bulky tool that takes up some space, however, if you have a need for this tool, it is well worth finding a spot for it in your kitchen.  I recommend it for your kitchen if you struggle with opening different types of bottles and pop top cans. The lids on soda bottles, water bottles and water jugs have gotten smaller and this tool works better with that  than any other gadget I've seen. The Multi-function Jar Opener contains a bottle opener, jar opener, soda can tab and pull tab can openers, PET bottle cap opener and a glass bottle opener.  It's made with very sturdy hard plastic, and has a handle that is very easy to grip and hold on too while twisting.
Disclosure:  I was given these cool tools to review.  I tested them out and this is my honest opinion about the usefulness of the product.
May 17, 2010 - Written by
Diana
I've been trying out the NuWave Infrared Oven lately.  The difficulty with reviewing, is that you then have to set your dinnertime or dinner prep time around a review product.  While in some cases it's easy to do, when it comes to cooking with a new gadget, you may need a little extra time and leeway.  That's the case with the NuWave.  I thought I would like it after all I've seen the infomercials.  It's easy to use, right, and cooks it perfectly, right.  Well, kind of.  The first time, I underestimated how long it would take to cook the meat, and over estimated the asparagus.  So I ended up with meat that I kept putting on longer and longer, which dehydrated the asparagus.  Really, it tasted like dried asparagus – a little on the weird side if you ask me. Pizza turned out well though it took a little longer to bake than I thought it should, plus flipping it over.  However, summer pizza might be worth it, because the kitchen won't heat up. 
The next time I cooked lamb chops – and that worked out really well.  I still had to work with the timing a little because they were a little more done on one side than the other.  My favorite meal though was tonight's roasted chicken.  I put it into the NuWave, 20 minutes on one side, 25 minutes on the other.  The grease all drips down from the chicken into the lower pan, but it was still moist and delicious.  I followed the Rosemary Garlic Chicken – exactly, and it worked out perfectly.  My favorite part?  I don't use a lot of energy like I would using the oven and it doesn't heat up the house.  We have a small home, so while roasted chicken is one of my husband's favorite's, my house stays cool.  Yes, there is the grill outside, but I don't always want to spend my cook and prep time outside.  The kids and my husband all gave a big thumbs up to tonight's dinner.
Let me tell you about the NuWave.  It's infrared technology –  There's a heating element in the top, plus a fan to circulate the heat.  This is attached to the dome that you can lift off.  There is a bottom lift out pan for easy cleaning.  The pan could be better made, it's a little on the flimsy side, but if you cover it with foil, or use the silicon pizza liner in the lift out pan it will last much longer – I think.  There's a grill which can be flipped from a 1 inch side to a 4 inch side, depending on how far away you want the heat.   So, you put the food on the grill or in a pan and turn it on.  Sometimes you need to flip it, like the roasted chicken.  Since the element is only on the top (even though there is a fan) you have to flip meat in order to get it evenly cooked.
The downside –  in a small kitchen like mine, it takes up space.  My counter space is limited, and I usually only keep things I use often there.  So, before you purchase you need to consider where you will store it.
Researching the NuWave was interesting.  There are whole clubs and forums for NuWave fans and Youtubes like you wouldn't believe.  Do I like this gadget?  Yes, I do.  Will I use it again?  Yes, I will.  Do I recommend it?  Yes I do.  It's perfect for a small apartment – though counter space can be an issue.  Indoor grilling is something you can do with this, and once you get the hang of it, it's pretty darn cool.  My grade A- (because you need some practice, and space).
I was sent a NuWave for review.  My opinion is my own.
July 26, 2009 - Written by
Diana
Before Pourfect I had a mishmash of all different size and style measuring cups and spoons.  I packed those up because now I have a really nice set that is pretty darn perfect. I love the pour spouts, the stability of the larger cups due to the rubber rings on the bottom.  The measuring spoons have a nice range of sizes, all the way down to a smidgen and a pinch and all the way up to 2 tbs.  The spoons all clip easily on and off a ring, and the set comes with a leveler.  The cups nestle so nicely inside each other.  The cup set fits down into my kitchen drawer, which is a big plus.  The Pourfect measuring cups and spoons are also very sturdy another plus.
I also have different size Pourfect spillproof bowls with lots of great features.
Gull wings – Nothing drips over the sides – no overspill.
Dripless spout – Doesn't drip down the front of the bowl.
Pivot – Align the rim of the bowl with another bowl or container and prevents it from slipping.
Channel – Narrow channel helps to control the flow of the liquid in the bowl.
Rubber Ring – Rubber Ring is non-slip, for less spillage (I'm really into non-slip).
Measuring Guide – English and Metric Measurements inside bowl
Egg Cracking Ledge – There's a little lip to help crack your eggs (and so the eggs down drip over the edge of the counter)
Grip – The handle rests over your palm and thumb and reduces strain on your fingers, wrist and forearms.
I tried out the bowl for making pancakes and my favorite feature is that I can measure the dry ingredient right into the bowl, saving on cleaning, and then pour the eggs and milk in and mix it up.  Then fold in the blueberries and pour it right onto the griddle without breaking the berries. The less bowls I need to use the better. 
Here's another idea.  My sister in law has her own chickens and breaks the eggs into a bowl before pouring into the pan.  The pourfect bowls are great for this with their gull wings and dripless spout. 
While the spoons and the cups line up and stack nicely, the only drawback to the pourfect bowls is that the handles prevent perfect symmetry when you stack them.  I'm not worried about that though. They're all the same color and they match, wow!  My grade overall is A+ because I really,really like the sets.
June 8, 2009 - Written by
Diana
We're not Grill Masters yet.  We're working on it, slowly trying to improve our technique.  We saw some classes we wanted to try, but we had conflicts (probably track) and couldn't go.  I watch Bobby Flay and the others when I can (Alton too) to learn and we're getting better.  Our grilled chicken was really delicious.  I love that the grill doesn't heat up the kitchen – someday I'd like to try solar cooking, too. Though we've cooked over our firepit and a propane stove when we go camping, the grill is the one I want to master now.
Grill Daddy  – My husband usually wants to wrap everything in foil and seal it up good when he grills. I've been trying to get him to grill the meat right on the grill, but he hates the clean up.  The Grill Daddy takes care of that.  It has a wire brush, plus a reservoir for water.  You squirt the water onto the grill and use the wire brush to clean off any residual stuck meat and grease.   If the grill is still warm (but turned off), the water will steam everything off.  We have the Grill Daddy which is plastic, there is another one called Grill Daddy Pro, which we didn't test out.  Our Grade A- for the plastic.
CDN DUAL-SENSING PROBE THERMOMETER/TIMER – When my husband was in college and working at one of those fast food places, he heard all about salmonella, Clostridium Perfringens and all of those other lovely food diseases, so he always worries about the meat reaching the right temperature.  This meat thermometer that I use is perfect.  You can use it on the grill or in the oven.  It has a long heatproof cord so you can leave it in the meat while it cooks.  There are magnets on the backside so that you can stick it to the side of the oven.  Don't stick it on the side of the grill because the grill gets too hot, though off the grill on a side cart or table would work. I love my thermometer, roasts are not over done, or underdone.  No need to slice into it to check.  You can test each individual chicken, just by poking it with the rod. Burgers, steaks, fish, no problem – this will help your meals become flawless.  And hey, use it inside too – no more dry turkey.  My grade A+
Kuhn Rikon Nonstick_Dual Knife -  I like that the knife is double sided with a smooth blade on one sided and serrated on the other.  This means you only need to bring one knife to your picnic or cookout.  I don't like to carry my really good knives with me when we go out to the park because it could get lost or misplaced.  So this is more of a functional, multi- bladed/purpose knife.  It even has it's own little cover for the blade portion, making it easier to pack. The knife is coated to slide through the meat/veggies more smoothly.  My only complaint is that the blade is a little more flexible than some of my others.  My grade B.
Long Armed Silicon Brush – I love the silicon brushes because they clean so easily.  I always worried with the nylon and other basting brushes that there was food residue left down in the brush.  Not with the silicon, I'm completely confident it's clean and I can stick it in the dishwasher without a problem.  I have a longer handled one for my husband so that he doesn't singe his hands while basting.  My grade A.
Long Handled Tongs – Long Handled Tongs are the best for the grill.  You can't grab chicken or hotdogs with a spatula.  Ours has a nice hand grip and also a grip for the meat, so it doesn't slip.  Easy to wash – stick it in the dishwasher.  This one is a keeper and will last forever.  My Grade A.
So what other tools would you suggest for your grill meister?
February 8, 2009 - Written by
Diana
Recently I've had the opportunity to try out some Kyocera Ceramic Kitchen Knives, peelers and mandolin
.  If you are looking for something really cool, beautiful, great to handle, then this is the knife for you.  Ceramic knives are really really sharp and keep their sharpness ten times longer than a regular metal blade.  The handle on these tools are ergonomic and fit so well, they're a pleasure to hold.  They're really lightweight too since the blade is a lighter weight than the metal ones, the handles don't need to counter balance the blade weight and so the whole knife is light. They're good for cutting fruits, vegetables, and boneless meats. 
These knives are meant to compliment your collection, not take it over.  It has limitations due to the hardness of the ceramic blade.  You can't cut really hard things, because if you twist the blade, you are liable to break some of the teeth. However, if you slice an onion, it slices so smoothly, and potatoes too, like butter.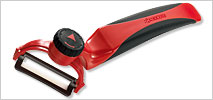 Kyocera Perfect Peeler
– That's it's name, but it is really the perfect peeler.  You can rotate the blade for 4 different angles.  I used this to peel my squash, and it was great to hold it up vertically,  yet have a wide blade that spread out and peel it.  I just pulled the handle straight down and it peeled it in a swath across.  You can also use it the same as you would a regular peeler by changing the position of the blade.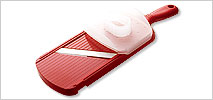 Kyocera Adjustable Mandolin Slicer
– I've always wanted one of these.  Those guys on TV make it seem so easy to slice and dice with a mandolin.  This one is extra special, it's adjustable.  I cut my onions on .5 mm – and they slice paper thin, but the potatoes I moved to 3 mm and they were just the right thickness for my Parmesan potatoes.  Make sure you are very careful and use the guard.  I didn't have it set up correctly and took a chunk taken out of my thumb. 
  Kyocera Revolution Series 3 Inch Paring Knife
– This is the knife for food prep.  It sliced through veggies, onions, and potatoes so smoothly. 
Kyocera Utility And Peeler Gift Set
– this set is just perfect if you want try out just a couple of pieces or it would make a nice gift.  The peeler only peels one way, so you won't slip and cut yourself. 
  Features of the Kyocera Kitchen tools:
Razor Sharp blade stays sharper longer – at least 10 times longer than any professional cutlery including high carbon steel.
Won't rust or alter the taste, smell or appearance of food (rusty peelers no more – yay!)
Ultra Lightweight – perfectly balanced and light, reduces fatigue during repetitive cutting tasks.
Easy to Clean: Smooth, polished surface resists germs and is impervious to acids, oils and salts.  Simply wash and wipe dry.
Complimentary resharpening: Kyocera offers complimentary re-sharpening with a nominal fee for shipping and handling.  Made from zirconium oxide, a material close in hardness to diamond, our ceramic blades actually require diamond wheels to be resharpened.
Color availability – White blade with blue, green, yellow, orange, read and black handle or black blade with black handle.
I highly recommend these kyocera ceramic kitchen "stuff".  They work fantastic, they feel perfect and look great (especially the red).  If your valentine is up for a nice set of really cool red ceramic bladed knives, go for it.
January 6, 2009 - Written by
Diana
Sunday was a busy day. It was the last day of our winter break. My husband and I took the time off to spend it with the kids and each other, but this was our last day before work started up again. It was the day my daughter was leaving to go back to college, catching a ride with a friend.  We went to church, but we never do hit the early mass, it's the nooner for us, so we can have a leisurely brunch together first.  Then food shopping and stock up for college girl since she was going back.  I bought a roast in the store, but forgot that I should start early with all of the commotion going on.  When I remembered, time was too short to go the slow simmer route, so I kicked it into high gear with the pressure cooker.  We never owned one growing up, and I never saw one in use until my mother in law did a pot roast for dinner one night years back.  If you don't have a lot of time to cook a pot roast, the pressure cooker is the way to go.
There are several parts to the pressure cooker: the pot, the lid, the pressure regulator, the vent pipe, the cooking rack and the lock pin.  Before starting, always make sure the vent pipe is clear and not plugged.  If you are doing a roast, you may want to sear the meat in some hot oil first.  You can use the pan of the pressure cooker.  Then pick up the meat and place the rack under it.  Add some liquid – .  Make sure the pressure cooker is no more than 2/3 of the way full.  If you want to add onions and garlic, and spices do so.  I usually cook my potatoes and carrots in a separate pot in some beef broth, other wise, they will be mush.  You want to cook things together that will take about the same amount of time, and you won't be able to open and close the lid, so cook the veggies separate.
3 lbs beef
1 tbs vegetable oil
2 1/2 cups water
salt and pepper
onion
garlic
spices (rosemary is especially good with a roast)
Sear the meat in hot oil.  Pick up the meat and place the rack underneath.  Add water and the rest of the ingredients.  Close the lid on the pot correctly so that the handles line up. Place the pressure regulator on top.  Turn on the heat and cook 45 minutes.  As the meat cooks, the pressure regulator will rock back and forth and the lock pin will pop up to lock the handles in place.  Take the pot off the heat, and when the lock pin falls back down you can open the handles.  Never force the handles apart.
The meat will come out tender and fall apart and be delicious.

Pressure Cooker Pot Roast
Cooking a pot roast in a pressure cooker is a way to prepare the roast in a much shorter amount of time.
Ingredients
3 lbs beef
1 tbs vegetable oil
2½ cups water
salt and pepper
onion
garlic
spices (rosemary is especially good with a roast)
Instructions
Sear the meat in hot oil in the bottom of the pressure cooker.
Pick up the meat and place the rack underneath.
Add water and the rest of the ingredients.
Close the lid on the pot correctly so that the handles line up.
Place the pressure regulator on top.
Turn on the heat and cook 45 minutes.
As the meat cooks, the pressure regulator will rock back and forth and the lock pin will pop up to lock the handles in place.
Take the pot off the heat, and when the lock pin falls back down you can open the handles. Never force the handles apart.
The meat will come out tender and fall apart and be delicious.
December 7, 2008 - Written by
Diana
I think that some days cooking should be the project of the day.  I know we think of gardening as a project, or changing the oil, or cleaning the gutters, but some days need to be set aside to accomplish a cooking project.  While me may also think of Thanksgiving, or Christmas as a project, and it is, but I'm not referring to that in particular. Making Salsa was one of our projects this year.  This weekend my kids are gone, which makes it a little easier.  It's snowing outside and that helps to reinforce that today is a good indoor project day. 
Turkey Soup
I have a turkey carcass (my sister in law didn't want it – can you believe my luck).  It had some meat on it so I cooked everything in a pot of water.  Then strained the broth into another pot, put everything out on pans to cool and removed all the meat.  Then I stuck the bones, and skin and everything except the meat, along with onion – quartered, peels and all, plus some carrots, celery and chard ( we have it growing in the garden tunnel outside), salt and pepper back into the pot with all of the broth (and drippings I stole too, that she didn't want -lucky, lucky me). I'm simmering the carcass for a good long while – around 12 hours.  I will strain it, cool it, stick it in the fridge so that I can remove the fat.  Then I will put the stock and some of the turkey I picked off into containers and freeze it.  We will have turkey and noodles for dinner or turkey soup or whatever, but I will have the broth and meat separated and stored in the freezer in family dinner size portions. 
Canning Cinnamon Apples
My husband and I are also cooking up roasting pans full of apples and cinnamon.  For this I have the ultimate tool – an apple peeler.  Not one of those hand held scrapers, but an apple peeler with a crank.  You put the apples on and zzzzzzzippp, they are done. Then you core them.  We have an apple corer and slicer that we inherited from my husband's great aunt.  My husband put together a bowl with water, and packets of true lemon and true orange.
After the apples are cored and slice, we drop them into the liquid, then transfer it to the roaster.  My husband took all the peelings and cores, and juiced them, adding that to the roasters with the apples.  I mixed in some cinnamon as we went along otherwise, the apples would make a mess when stirred.  I covered the pans with foil and stuck it into the oven on low and will cook them until they start to get soft.  We'll cool them a little and then put them into hot pack jars with the liquid from the bottom of the pans.  Then into the boiling water bath.  These apples will be good with dinner instead of applesauce, or for desert with some oatmeal crumb on top. 
Other Projects
Some families do cooking for the month all on one day.  My father used to do that.  He would make up big pots of soup and put it into single serving portions because his soup was much better than store bought.  You can make big batches of lasagna and freeze family size portions or casseroles.  One year my family had a cookie exchange, so we all baked up huge batches of cookies to swap. 
Cooking projects are great for doing something now, that will save you time when you need it.  Of course, cooking project night means leftovers because I don't have time to cook a real dinner, but that's okay too. 
Links:
Freezer Cooking at Organize Home
Once a Month cooking at Dinners in the Freezer
Host a Christmas Cookie Swap at Myrecipes
Christmas Cookie recipes at Razzle Dazzle
Preserving Apples at Canning Pantry
Homemade Turkey Stock at Modern Beet
Canning supplies
Soup Stock Supplies