March 3, 2008 | by
Deb Ng
Makes two 8-inch or 9-inch layers, or 24 cupcakes
1 1/2 cups cake flour
1/2 cup cocoa powder
6 tablespoons (3/4 stick) unsalted butter, plus extra for greasing
1 tablespoon vanilla extract
1 1/4 cups sugar
5 large eggs
5 large egg yolks
March 2, 2008 | by
Deb Ng
This recipe comes to us courtesy of Salads of the Sea, the nation's best selling refrigerated seafood dip company.
Seafood Cheese Baby Burgers
1 lb. ground beef
1 8-oz. container Salads of the Sea® Seafood Cheese Spread
8 mini hamburger buns
Sliced tomato
Sliced onion
Lettuce or baby greens
8 slices cheddar cheese
February 23, 2008 | by
Diana
I am all about fast and easy during the week. Today, since I have a bad cold and sore throat, I decided a good dose of chicken broth was in order. The basic Chicken and Noodle recipe I stole from the booster booth at the school. It's fast, easy and hot for those cold football games and Pumpkin show nights, or nights you are too sick to do a lot of preparation. I add some vegetables to mine to make it a little more flavorful and maybe a little healthier.
February 19, 2008 | by
Jonathan
I just got off the phone with Ted Slanker at Slanker's Grass Fed Meats. You can visit his web site here: http://www.texasgrassfedbeef.com/
I like this stuff an awful lot. We mostly order the ground beef, roasts, and stock & soup-making bits; frankly, grass-fed steaks are a real challenge to cook well in my view and they tend to be somewhat tough if you overcook them by even a small fraction. I love the flavor of grass-fed beef; it's meaty, mineral-rich, and deep without being gamy in the slightest. There is a lot of variation of flavor and toughness given that the animals roam around and that they're leaner than feedlot-raised cattle, and this is another reason why we don't eat as many of the steaks. Still… I think we might be headed toward a full conversion to the grass-fed lifestyle.
February 16, 2008 | by
Buff
This is one of my favorite recipes and it generally goes over pretty well, especially when the weather is not so great. Since it's one of those foods that cooks all day, it permeates the house and makes you hungry for it all day — not IT — the food, you knucklehead. This is the food that forever converted my good friend, Renee, to eating spicy food. She loves it and that's a great endorsement. I'm canning the bulk of this for her and for me sometime later!
If you want to serve this as a vegetarian meal, just don't put in the sausage and remove a cup of the broth.
February 15, 2008 | by
Robin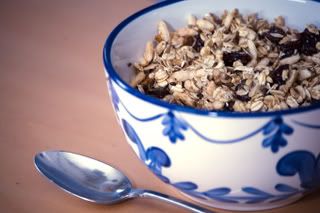 Granola goes way back. It makes you think of the birkenstock people, the hippies, the natural world embracing types. Granola is not only their food of choice but a fitting adjective: Madison's grandmother smuggled weed in her bra to Woodstock back in the day, how granola!
The granola set wisely held tight to unprocessed, natural foods during the latter half of the twentieth century while the rest of us were eating Wonder bread. The virtue of the whole grain has since fallen back into the favor of nutritional scientists. Grain is refined by the removal of two outer layers. Because these layers contain fiber, phytochemicals, and micronutrients (vitamins and minerals), processing a whole grain into a refined grain renders it less nutritionally useful.
February 13, 2008 | by
Deb Ng
I'm having car problems and the roads are icy today, so I didn't feel like going to the supermarket as previously planned. Even so, there wasn't much food to work with in my freezer. I settled on a package of chicken wings. Now, I'm not my husband. He doesn't mind venturing out in 18 degrees to grill up a batch of wings. I'm not that ambitious. What I decided to do was slow cook them in my crockpot.
A few months ago Buff sent me some T.J.Morgan's Basting Sauce, and I've been finding some good uses for it. Today I marinated my chicken wings with the TJ. Morgan's Teriyaki Sauce – using the Vacu-Seal to get the job done quicker – and slow cooked the wings to perfection. They're just about falling off the bone. And Ok, I sample a couple since dinner won't be for a while, and they're absolutely out of this world.
T.J.Morgans touts itself as a basting sauce, but I also use it as a marinade. The Teriyaki sauce is absolutely divine. Friends, don't be afraid to experiment in your kitchen. Sometimes the …
February 9, 2008 | by
Buff
Black Beans
This is a variation of my red beans and rice recipe.  It's thick and hearty and my good friend Renee tells me that this is perfect hangover food.  Since she's a veteran of many a hangover, I believe her.  Reminder:  you should soak the beans over night!
Ingredients:
1 pound dry black beans
4 cups vegetable broth [can substitute chicken, if you're not a vegan]
6 cups of water
3 14 ounce cans of petite diced tomatoes
1 jalapeño – minced [if you don't like spicy, don't add]
1 Vidalia onion – chopped
½ pound of sliced mushrooms
1 green pepper – chopped
1 TBLS ground chipotle
1 TSP dry mustard
4 or 5 stalks of cilantro
1 can sweet yellow corn
Salt and pepper to taste
February 9, 2008 | by
Deb Ng
I'll admit it. The Vacu-Seal was sent to me to review for this blog and another of my blogs, Simply Thrifty. I probably wouldn't have gone out and bought it because I use (and reuse) ziplock bags and old Chinese food containers to store my food. Was I ever pleasantly surprised!
The first thing I noticed was how lightweight and compact the Vacu-Seal is. It doesn't take up my precious counter space and fits neatly inside a drawer with no problem. My kitchen is small, I don't have room for anything on my counters. The compactness of the Vacu-Seal is truly appreciated.
The second thing I noticed was how easy to use. I didn't even need to look at the instructions, it's kind of self explanatory. Put the Vacu-Seal nozzel into the valve on the reusable bag, and press a button. Really, it's that simple.
The Vacu-Seal comes with reusable zipper lock bags so you save some coin on foil, bags or containers. You can use it to marinate food in minutes or to …
February 7, 2008 | by
Deb Ng
Gung hay fat choy! Happy Chinese New Year. This is a big occasion for my family, bigger than Christmas even. Normally we spend the day feasting with family under a red and gold backdrop!
Vitasoy has some great ideas for Chinese New Year fare, infusing Chinese and Italian flavors with their "Red, White and Green Pasta Dishes" created by Chef Jim Coleman host of PBS' "Healthy Flavors."
"Make a Chinese New Year's Resolution to explore exciting new flavors and adventurous new uses for your favorite ingredients," said Chef Jim Coleman, host of the PBS-TV 'Healthy Flavors' cooking show. "There is no reason to relegate Chinese noodles and pastas to traditional Chinese dumplings and stir fries! Chinese New Year's is the perfect time to think outside the wok!"
Indeed, when I received the Vitasoy promotional packet, I couldn't wait to try the recipe for the Chinese New Year Ravioli. It's a creative dish, one that never would have occurred to me (but then I'm not a chef!) and it's very tasty. The spinach and mushrooms didn't appeal to my five year old, but my husband and I enjoyed it. I think it also makes a great dish for Valentine's Day!
Here's the recipe for Chinese New Year Ravioli: