April 7, 2008 | by
Robin
When I was in college, a small investment saved me hundreds of dollars in my take-out budget. I figured out how I could stiff the pizza parlor by making delicious pizza at home. I had stumbled upon the baker's secret weapon: the baking stone. (more…)
April 5, 2008 | by
Buff
We get quite a bit of seafood here in Florida and I have used this brine on Grouper and Mahi Mahi.  However, there is nothing quite like the flavor of smoked salmon.  I smoke it in my Big Green Egg using charcoal and two chunks of Alligator Juniper [props to my friend, Eddie in Arizona].    Brining will take from six to twelve hours, depending on the thickness of the salmon. Salmon over one inch thick should brine for eight to twelve hours. For thinner salmon, six to eight hours is fine.
Ingredients:
2 pounds salmon filets

1 quart water

8 oz soy sauce

¾ cup brown sugar

½ cup honey

1 large clove garlic crushed

¼ cup salt

¼ cup old bay

1 tsp pepper

 
Method: 
Combine all of the ingredients together in a large Ziploc bag.  Refrigerate for 8-12 hours. 

Smoke it!  I use a rack that fits into a pan on my Big Green Egg.  This allows me to put the brine in the bottom of the pan for more moist and tender smoked salmon.  And I generally don't let the internal temperature of the BGE get too much past 215 degrees.

Salmon is done when it flakes with a fork.
I serve it immediately generally with a side order of sweet potato fries and a fresh salad.  Sometimes we just stand around and eat it right from the plate with fresh veggies. And it is very flavorful the next day for breakfast on a bagel with plain cream cheese.  
March 28, 2008 | by
Diana

I found this new magazine in the store the other day.  I'm a food magazine addict.  Even though I have quite a few magazines and recipe books, I'm always looking for new ideas to use in my cooking.  Clean Eating Magazine is a brand new (okay second issue is out now) magazine put out by the publishers of Oxygen.  I'm very pleased with this new mag.  I want to work more on cooking foods that are healthy and clean without a lot of fats and sauces.  The magazine addresses cooking with whole grains, different fruits and vegetables, plus plenty of salads and family dinner type meals.
(more…)
March 26, 2008 | by
Robin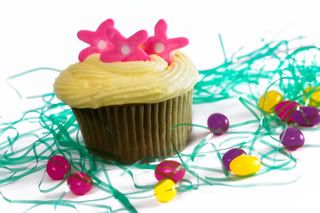 I am partial to vegan cooking. Not only is the intent of compassion one that I share, but quite honestly the food is really good! One category of vegan cuisine that I avoided was baking, until now. (more…)
March 25, 2008 | by
Buff
"What?  You've never heard of the Big Green Egg?  Holy Jeebus.  WAYSA?" 
This is what I want to say to people.  This is by far the best outside cooking device known to mankind.  When we moved to Florida I purchased a nice sized regular grill and thought that it would suffice.  Then I was looking through some old files on the computer and …well to make a long story even longer…I bought one.  And then I got the bug…the BGE bug.   
My poor grill.  It's only used now as a workhorse for bulk or pedestrian items such as hot dogs, hamburgers and chicken wings. 
My lovely ceramic piece of art cookware takes on the rest of my grilling and roasting work.  I've made beef jerky, smoked fish, roasted pork and grilled chicken.  All of these meats come out extremely tasty, with a nice natural smoke flavor and very succulent.  From the published material, I understand you can do breads and pizza in it, but I haven't gotten there yet. 
There is one down side.  It's very expensive.  My medium sized BGE was about $800.
Mine is a medium sized, but I am going to keep my eye out for an extra large. 
March 22, 2008 | by
Buff
I guess I could combine this recipe with two what I'm digging…because I sure do dig my Big Green Egg and I sure dig the alligator juniper wood smokiness. I'll just post this recipe and in another blog entry will fawn all over post more information about my BGE and the alligator juniper. I like making pork loins on the BGE because they come out so moist and tender and smokey.
The Rub
6 tablespoons paprika
2 tablespoons salt
4 tablespoons brown sugar
2 tablespoons hershey's cocoa
2 tablespoons chipotle
2 tablespoons black pepper
1 tablespoon cayenne pepper
1 tablespoon dry mustard
1 tablespoon garlic powder
March 22, 2008 | by
Buff
Oh my goodness …  if you know me then you know how much I love my spicy food.  I am digging on the Cholula Original Seasoning because it's hot sauce in a powdered format.  If you like your hot sauce, then this is for you.
According to the web site, http://cholula.com/,  it's big on flavor and not on salt!
Premium coarse ground ingredients lets you see, taste and smell the generous bits of signature spices without the overwhelming saltiness or heat found in other seasonings.

Captures the Flavorful Fire of Cholula Hot Sauce with an exclusive blend of coarse ground peppers, garlic, onion and spices. It's a wonderful flavor enhancement to steak, burgers, chicken, seafood, pizza, french fries, eggs and omelets. As an ingredient it gives soups, sauces and marinades a zesty delicious flavor distinction.
And it sure is all that. I made breakfast this morning and used it liberally in my scrambled eggs.  It was dee-lish.
March 20, 2008 | by
Diana
Under the Tuscan Gun is a web based food program starring actress Debi Mazar & her italian-born husband Gabriele Corcos.  I find the show to be endearing.  The interaction between Gabriele and Debi, the low key setting, the pace, the interesting recipes, it's all perfect and easy to follow.
March 19, 2008 | by
Deb Ng
I'm not a wine connoisseur. I understand about wine pairings and I know what flavors I like. But when it comes to bouquets and oak flavors and sniffing corks, I'm lost. There. I said it. I like wine, but I'm clueless. When I taste wine all I taste is wine. I can't find the hint of apple or barrel flavors other wine drinkers pick out.
On the weekends my husband and I enjoy finding new wines and enjoying a glass or two in the evening after our son is in bed. We're on a budget (renovating) so we're not shopping for $50 bottles. Instead, we ask our wine distributor for recommendation for wines under $10 or $20.
March 17, 2008 | by
Deb Ng
What is this Cookerati blog? Is it for foodies? A recipe blog? How come there are reviews for iced coffee and Vacu Seals? Confused? You shouldn't be! Cookerati is a brand new food blog and community geared towards home cooks and amateur chefs.
You don't need to have a high tech kitchen or a degree in saucerie to appreciate Cookerati. All you need is an appreciation of food and a willingness to experiment.
You see, I love baking or cooking for family and friends. I enjoy finding news recipes and taking those and making changes so they're my own. I don't know a thing about the culinary arts or whether or not a cabernet goes with steak tartar. I just know what I like.
Fancy chefs are welcome here, but so are every day cooks and comfort food gurus. We're not a community of experts. We're just a bunch of friends who love to cook and eat. Welcome and join in any time.
Image via stock.xchnge